The School of Business Center for Innovation and Ethics hosted Artificial Intelligence: Promise, Ethics and Peril – An Evening of Conversation on March 2, 2015 in the Mayo Concert Hall. The business and technology communities are intrigued by the promise of artificial intelligence. The fifth Terminator movie is months away, and recently Stephen Hawking and Elon Musk have warned of the grave risks posed by continued advances in artificial intelligence. In an open letter, hundreds of experts have recently discussed both the great benefits and ethical challenges posed by artificial intelligence.  http://futureoflife.org/misc/open_letter#signatories.
The evening featured James Barrat, award-winning documentary filmmaker and author of Our Final Invention.  After Mr. Barrat's presentation, Kevin Michels, Center Director, joined him in a conversation about the opportunities, ethics and dangers of AI.
Co-sponsored by the Schools of Engineering; Humanities and Social Sciences; Nursing, Health and Exercise Science; and Science. Also co-sponsored by Student Affairs; and the TCNJ Chapter of Phi Beta Kappa.
This program was free and open to the public. Read "Advancing Technology: AI to Outperform Humans," by Gabrielle Beacken, in The Signal (3/11/15, page 3.)
---
James Barrat Biography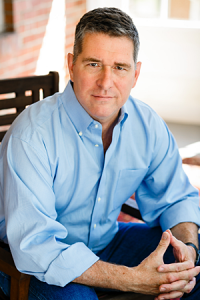 Award-winning documentary filmmaker James Barrat is the author of the groundbreaking nonfiction book, Our Final Invention: Artificial Intelligence and the End of the Human Era (Thomas Dunne, 2013). Named a Huffington Post Definitive Tech Book of 2013, Our Final Invention explores the daunting risks of developing advanced Artificial Intelligence, risks that include the weaponization of AI in an international 'intelligence arms race,' and the annihilation of mankind at the hands (or bytes) of superintelligent machines.  Mr. Barrat has recently appeared on CNN and BBC World, discussing the dangers of AI.
Reviewers rave that Our Final Invention is "hard-hitting," "important and disturbing," "excellently written and deeply researched," and "The compelling story of humanity's most critical challenge. A Silent Spring for the twenty-first century." Time Magazine named Barrat one of "5 Very Smart People Who Think Artificial Intelligence Could Bring the Apocalypse."
For two decades, James Barrat's documentary films have set viewer ratings records for National Geographic, Discovery, PBS, and other broadcasters in the U.S. and Europe. Barrat's films cut across cultures and eras to tell thrilling, deeply human narratives of archeology, science, and expedition-adventure.  He currently resides in Annapolis, Maryland.
Return to School of Business Center for Innovation and Ethics Events
Sign-up here to receive e-mails about upcoming events and research from the School of Business Center for Innovation and Ethics.